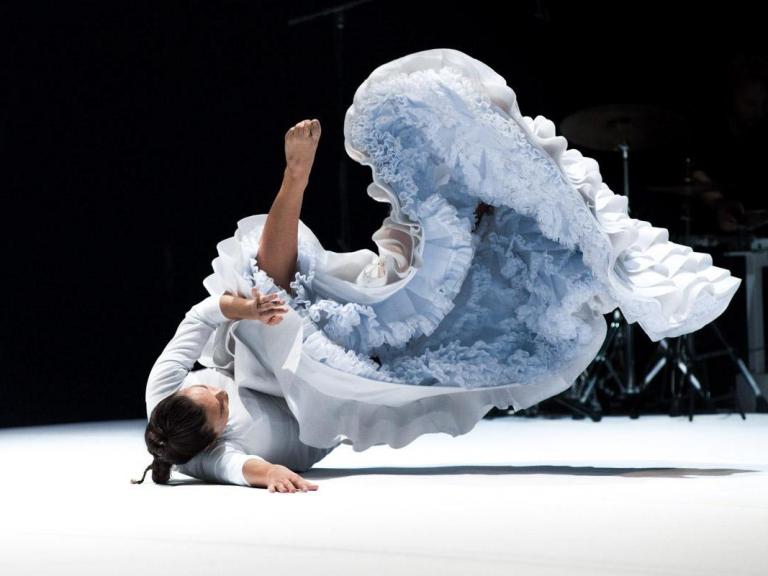 There are some dancers – some performers – who are unlike anyone else. Rocio Molina is one of them. She's flamenco's wildest radical, punk and glorious, a magnificent dancer whose range takes in the fiery intensity of traditional styles, surreal fantasy and unpredictable humour. In Caida del cielo (Fallen From Heaven), she goes from moon goddess to rock chick, taking in crisps and pollution along the way.
Her current tour, appearing at Sadler's Wells as part of Flamenco Festival London, is Molina's return to dance after having her first child last year. (Characteristically, she built a show around her pregnancy, adapting the choreography to her changing body). She's back at full power.
She's the only dancer in Fallen From Heaven, working her way through strange transformations. Her four musicians mix traditional flamenco with rock music and compositions by another iconoclast, Paco de Lucia, a guitarist who branched into jazz and other styles. The show sometimes rambles, losing momentum as Molina pushes at boundaries, but still has her characteristic blend of imagery and powerful dancing.
She first appears in an ice white dress, a snowdrift of ruffles around her ankles. Slow as a glacier, she leans this way and that, tilting and morphing from one pose to another. She could be a mermaid, or a sea creature evolving to walk, and dance, on shore.
Once she's got there, all bets are off. She strips off the white dress, then matter-of-factly wriggles into her leggings under a dressing gown, tugging fabric into place.
Her footwork is fast and explosive, but she's a flamenco star who never relies on it: she often dances barefoot, showing off liquid backbends, swinging hips and shoulders, her movement quality as sleek as a cat's.
Elsewhere, she discovers a bondage harness inside a packet of crisps, or dances with a long staff, her feet and the wood setting up cross-rhythms with the intricate clapped and beaten patterns from the musicians. Then she jumps astride the staff, like a witch who has discovered pole dancing.
When Molina returns to the mermaid imagery, it's with a sense of darkness. Pulling on wet plastic skirts, she leaves a trail of fluid behind her, splattering the stage like an oil slick. One of the musicians washes her feet before she changes into a wine red dress. Then she dances perhaps the most traditional solo of the evening, grand and assured, with her knees still muddy.
Flamenco Festival London continues until 14 July. Box office 020 7863 8000